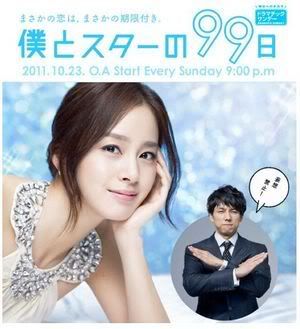 So, after a long hiatus from Japanese drama (since
Crunchyroll
went legit and stopped carrying it), I've finally swung back into action. Because I'm a total
girl
romantic
, I picked up a romantic comedy called
Boku to Star no 99 Nichi
- which I think translates roughly to something like "My 99 Days with a Star". I've only watched one episode so far, but I'm already getting excited for this show. It looks like it has the whimsical over-the-top comedy that I tend to appreciate in Japanese TV with less of the circular self-inflicted plot devices that Korean drama are known for.
The show follows a Korean popstar who is making her Japanese debut. She is assigned a bodyguard from a private firm. Her bodyguard has a strong sense of justice, but unlike most men is totally not interested in the popstar (which makes him perfect to fall in love with her as the show progresses). To complicate things, her co-star (a celebrated Japanese actor) has a huge crush on her, and she herself is looking for "someone" (long lost lover?). Love quadrangle!
What really struck me though, is that even though I've watched such a pithy number of Japanese drama, they all seem to intersect based on their star power. Also, while the same has not been true of the Korean drama I've watched, with this show, my Korean and Japanese drama experiences have also started to meld. It's uncanny! Let me demonstrate:
I have watched a total of 4 Japanese drama to date.




Now in
Boku to Star no 99 Nichi
, Sasaki Kuranosuke follows me for a third time, playing the famed Japanese drama star. What's more, the Korean popstar is played by
Kim Tae Hee
(the
Son Yeh Jin
wannabe) who played Seung Hee in...
IRIS
(terrible show, but one of the limited number of Korean drama I have watched)! Her fated lover is played by Korean popstar
Taecyeon
(a.k.a. Beast), one of the stars of
Dream High
, which is one of the few Korean drama on my to-watch list (because I'm a huge
IU
fan).
So there you have it. Although most of the time, I don't do this on purpose, the stars in the few drama I have watched continue to intersect. Either the drama acting pool is very small, or my great taste on drama prefers a particular set of talented actors. Must be that one. Hahahaha.